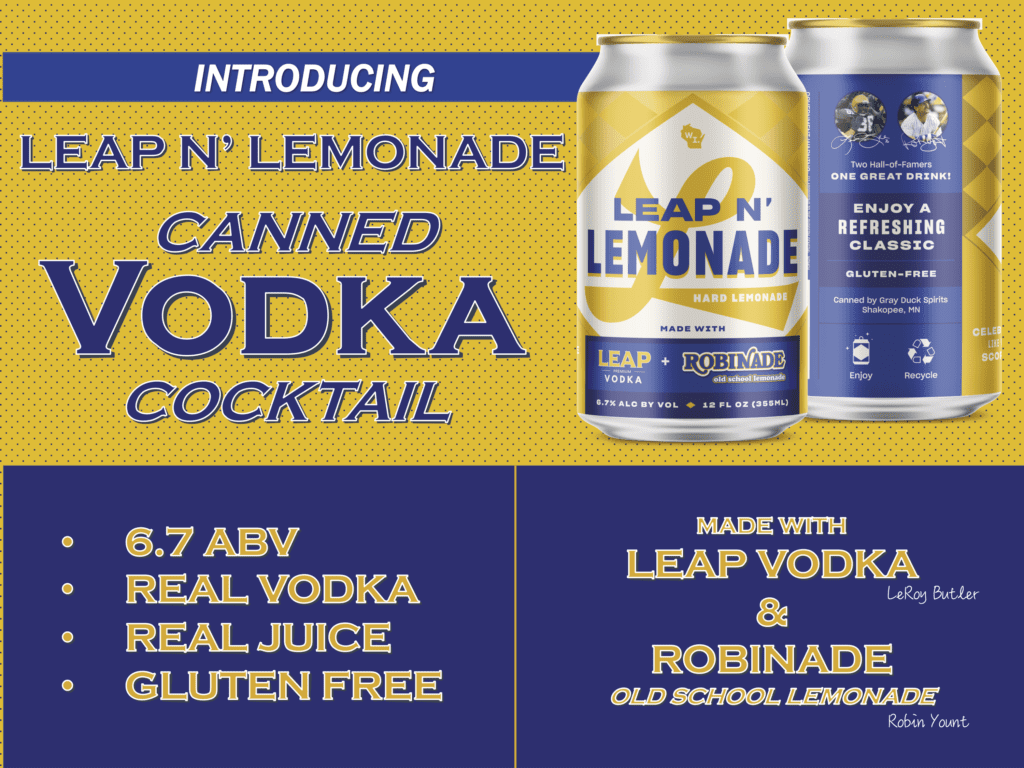 LeRoy Butler & Robin Yount Team Up To Create Canned Cocktail
Milwaukee, WI – "Two Hall-of-Famers, One Great Drink!" That is the tagline for Leap n' Lemonade, the inaugural canned cocktail now available from Wisconsin-based Leap Spirits. The ready-to-drink vodka/lemonade combines LeRoy Butler's Leap Vodka with Robin Yount's Robinade – Old School Lemonade.
Joining products to create Leap n' Lemonade gives the two Wisconsin sports legends something in common but it's not the only thing. Both Butler and Yount were drafted by teams that call Wisconsin home and played their entire careers for those organizations – an increasingly rare accomplishment in modern professional sports.
Both men were arguably the best at their positions in their primes. Butler earned NFC All-Pro honors four times and played in four Pro Bowls. He was named to the NFL's All-Decade team for the 1990s. Yount was named an American League All-Star three times and played in three All-Star games. He dominated the 1980s and won two American League MVP Awards. And, like the tagline reminds us, both are Hall-of- Famers.
"We are hopeful Wisconsin consumers like Leap n' Lemonade because we made it for them with products from two Wisconsin sports legends," said Steve Schulz, president of Leap Spirits. "We wanted to work with Robin Yount and his group because Robinade tastes great and really complements our award-winning Leap Vodka. The fact that Robin, like LeRoy, is a Wisconsin sports icon makes Leap n' Lemonade even more fun to enjoy for Wisconsin consumers."
Canned cocktails continue to be the fastest growing segment of the adult beverage market. Spirits-based canned cocktails like Leap n' Lemonade are now dominating the industry, growing at more than twice the rate of malt-based seltzers. Schulz contributes the accelerated growth of spirit-based products to ease of use and enhanced flavor. "While consumers desire the convenience, consistency and mobility canned cocktails provide, they also want products with authentic flavor; that is where many malt-based seltzers can come up short."
LeRoy Butler, co-founder of Leap Vodka, believes Leap n' Lemonade appeals to Wisconsin sports fans in a way no other product can. "No product has more of a connection to Wisconsin than Leap n' Lemonade. This should be at every tailgate and get-together in Wisconsin because everyone will love it." Butler also indicated more canned cocktails from Leap Spirits may be on the horizon. "We are just getting started with our canned cocktail line of products. Leap n' Lemonade is being launched first but more flavors are coming soon. I'm all about giving the fans what they want and they are asking for canned cocktails made with Leap Vodka."
Leap n' Lemonade Canned Cocktails by Leap Spirits.
Leap n' Lemonade is available in 12-ounce cans and sold in 6-packs. The product is made with real vodka,
real juice, contains 6.7% ABV and is gluten-free. To learn more about the product please visit leapspirits.com. 
https://onmilwaukee.com/articles/leap-n-lemonade